The holidays are meant to be enjoyed, but it's easy to get swept away by the stress of planning and perfecting meals for the ones you love. Why not take the work out of the season and spend your special days wining and dining at The Parlour Inn in Stratford, Ontario?
Focus on making beautiful memories in a picturesque town within the heart of Southwestern Ontario where our Executive Chef and exceptional serving staff will exceed your every holiday expectation.
The Parlour Inn's Christmas Day Brunch
Bask in the beauty of a home-cooked Christmas meal without all the fuss of recipe hunting, grocery shopping and dirty dishes. Visit The Parlour Inn on Christmas Day and taste the very best of the holidays with our renowned buffet menu. Fill your bowls and plates with roasted butternut squash soup, freshly baked bread, winter greens and a variety of robust main dishes.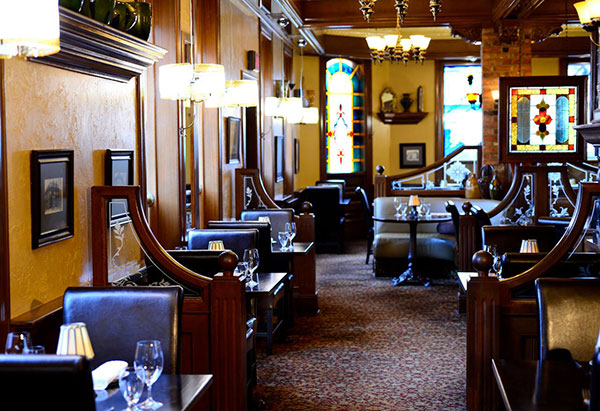 Our chef and serving staff are so excited to treat you to traditional dishes that incorporate innovative ingredients. From savoury quiches to bacon and eggs, and – of course – turkey and ham, you will be overwhelmed by the elegant selection of options to fill up on when Santa Claus comes to town. Remember not to leave your sweet tooth at home either because you will also have your choice of countless wonderful holiday desserts baked in-house.
Time: The Christmas Day brunch buffet is served from 11 a.m. to 3 p.m. however, if you're an early riser, you may join us for an à la carte breakfast menu from 8 to 10:30 a.m.
Cost: $29.95/person and $13.95/child
See the complete Christmas Day menu in our Holiday Dining Brochure
For reservations call 1-877-728-4036
New Year's Eve Dinner in Stratford at The Parlour Inn
During the holidays, Stratford is transformed into a true winter wonderland. The whole town is lit up with bright lights and charming Christmas decorations, so visiting Stratford gives you the sense you've been transported to the North Pole. While enjoying the sights and sounds of our holiday town, you can ring in the New Year with a sophisticated dining experience.
Whether you want to start the celebrations earlier in the evening or you plan on having a late night, you can explore The Parlour Inn's pre-fixed menu, which includes a variety of salads, seafood and entreés that will impress even the most discerning foodies in your family. From AAA Prime Rib through to a Smoked Chicken Supreme and rich gnocchi, this meal will warm and fill you up before you cheers to another great year shared with those closest to you.
Ring in The New Year in Stratford
In case you weren't tempted enough, your meal will also include some delightful amuse-bouche, sparkling champagne and awesome desserts to add notes of sweetness to your night of celebration. The Parlour Inn takes pride in its culinary excellence and we look forward to ensuring you and your guests enjoy every bite and glass of your choice.
Time: Seating begins at 4:30 p.m. and the last seating will take place at 10:30 p.m.
Cost: $60/person for the prix fixe menu
See the complete New Year's Eve Dinner menu in our Holiday Dining Brochure
For reservations call 1-877-728-4036
The greatest present you can give your loved ones (and yourself) this holiday season is to leave the cooking to The Parlour Inn.
We hope you love the holidays as much as we do, and even if you don't, we promise you will after indulging in our Christmas and New Year's Eve menus. Our chefs put a great deal of TLC into preparing these extraordinary meals, and we just know you'll be pleased with everything you put on your plate – and in your cup!
Plan your winter Stratford getaway at The Parlour Inn and preserve the joy of the season by removing all its stressors, so you can laugh, sip and savour every part of the season.