During Christmastime, the Stratford community loves to celebrate, so our streets are decorated, and our stores are all prepared for your holiday shopping extravaganza. The best thing about holiday shopping in Stratford is that it's free from the large crowds, long lines and generalized chaos that seems to accompany big box stores and oversaturated malls.
When you come to Stratford to purchase great gifts for your family and friends, you'll discover storeowners who are truly passionate about what they have to offer to your Christmas shopping list. As well, everything is within walking distance, so you can stroll from shop-to-shop along our charming laneways and stop into great cafes along the way for a boost of energy and indulgence.
Below, we briefly touch on a few of the types of stores you may find in Stratford for your holiday shopping, but there is a lot more where these descriptions came from. So, make the short drive to Ontario's most charming town to see why Stratford is the ideal destination to complete your Christmas shopping list.
Making Home a Little Warmer This Holiday Season
A person's home is their kingdom, and it's the little personal touches that make our houses feel more like a respite from the world than just a place to hang our hats. This Christmas visit any one of Stratford's home décor or antique stores to purchase items that will sit proudly on your loved one's mantle, in their garden or be used to make wonderful meals in their kitchen.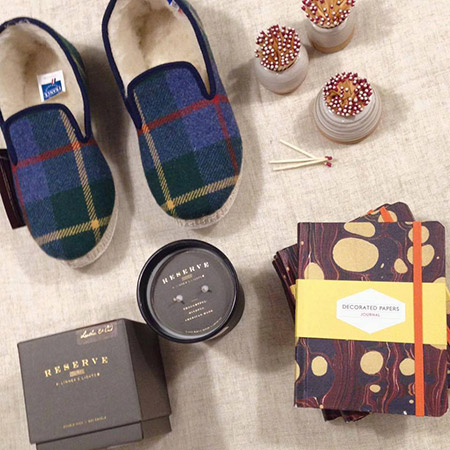 Home and Houseware Shops in Stratford
If you're looking to outfit someone's home with great pieces that they won't find anywhere else, check out these home-centric stores in Stratford:
Wills & Prior
Where: 22 Wellington Street, Stratford ON
Bradshaws Kitchen & Detail
Where: 129 Ontario Street, Stratford ON
Stratford Antique Warehouse
Where: 2977 Forest Road, Stratford ON
DISTILL GALLERY
Where: 96, Downie Street, Stratford ON
Tasty Gifts for Those with a Sweet Tooth
Stratford is known across Ontario for its long-standing tradition of sweetness. People come from far and wide to both of our artisanal chocolate and confectionary stores, and we recommend you do the same. The delicacies made in Stratford will make for the perfect stocking stuffers, presents for your kids' favourite teachers and an emergency stash of Christmas goods – in case an aunt or uncle appears unannounced at your dining table.
Sweet Treats in Stratford
If you're looking for little pieces of chocolatey and candied heaven, visit the following:
Chocolate Barr's
Where: 55 George Street West Stratford, ON
Rheo Thompson
Where: 55 Albert Street Stratford, ON
Unique Shops for Gifts You May Never Have Even Imagined
Stratford is nothing if not unique, so it's no surprise we have a long list of one-of-a-kind boutiques that sell items you may not normally find on a Christmas wish list. With that said, aren't the best gifts always the ones we never even asked for? We think so – especially when they are high-end goods handmade by people who want you to enjoy the holiday spirit as much as our Stratford residents do.
Whether you're shopping for a furry friend, a long-time confidante or your partner, Stratford gives you the opportunity to wrap up presents that show how much tender loving care you put into choosing the perfect present for them. Give the gift of a literary adventure that you can sign and date with a meaningful message. Or, add some magic to your eccentric aunt's day with a relic to bring positivity her way. From grooming pets to grooming men, Stratford has all the holiday goods you need!
Unique Gift Shops in Stratford
Some of the shops you should check out for more creative gift ideas:
Fundamental Books & Toys (books & toys for kids & teens!)
Where: 52 Ontario Street, Stratford, ON
The Barkery (treats for human's best friend)
Where: 4 George Street West, Stratford ON
The Artful Badger (high-quality grooming products for men)
Where: 98 Downie Street, Stratford, ON
The Wee Book & Photo Shop Treasures (books of all genres galore!)
Where: 151 Ontario Street, Stratford ON
The Magic Box (magical and mystical relics and books)
Where: 26 Ontario Street, Stratford ON
You Never Know What You'll Find in Stratford, So You'll Have to Come Shop for Yourself!
In addition to all these great shops, Stratford is also home to the world-renowned Stratford theatre, so if you can't find the perfect gift to wrap up, you can always treat your loved ones to an unparalleled theatrical experience with show tickets from the Stratford Festival.
Book your Stratford Getaway at the Parlour Inn today, so you can count on completing your Christmas gift list well in advance of the busiest time of the year. We look forward to celebrating a very merry December with you and treating you, and your shopping bags, to beautiful accommodations and refined gastropub dining.
*Feature Image: DISTILL Gallery in Stratford, ON