Get in the Christmas spirit by partaking in a wide variety of holiday-inspired events throughout Stratford during the town's 2019 celebration of the Christmas season. All the elves in Stratford are excited to welcome you to town, so they can show you the delicious, heart-warming and unique gifts they want you to indulge in this winter.
See Stratford come alive. From decorations strewn throughout our historical streets through to live entertainment and unparalleled dining, you'll soon realize why Stratford is Ontario's favourite place to visit leading up to, and long after, Santa's visit. Explore the exciting holiday events and activities taking place in and around Stratford, Ontario – including:
Stratford's Santa's Parade of Lights
This holiday season, be sure to visit one of Southern Ontario's best Santa Claus parades – bring the little ones to Stratford's Santa's Parade of Lights. Starting in the late afternoon, you can hear carolling at City Hall and indulge in free refreshments. At 5 PM, the first float, expertly designed by Christmas enthusiasts, will arrive. From that moment on, you and your family will get to see a parade of beautiful and illuminated floats that aim to warm attendee's hearts and remind them what the holidays are all about.
The parade will run for just over an hour, and the final float will feature the main event – Santa and his reindeer! Don't miss the unparalleled Santa's Parade of Lights, it's sure to brighten your evening and get you ready for a fabulous Christmas season.
Date: Saturday, November 24th, 2019 – from 4pm to 6:15pm
Location: Downtown Stratford, Ontario

Breakfast with Santa at The Parlour Inn
Visit Santa Claus this festive season at The Parlour Inn in Stratford. Your little-loved ones can let the big guy know what they're hoping to find under the tree and we'll have a photographer ready to snap a digital photo so you have a keepsake from your special day.
After your visit with Santa, enjoy a great breakfast that combines fresh ingredients and exceptional service, as well as special Christmas features. This family-fun event is the perfect way to kick off the holiday season, so come and enjoy making great memories with your kids and grandkids.
Date: December 8, 2019 –  from 9am to 11am, contact The Parlour Inn to book your reservation.
Cost: $18 per person.

The Stratford Christmas Trail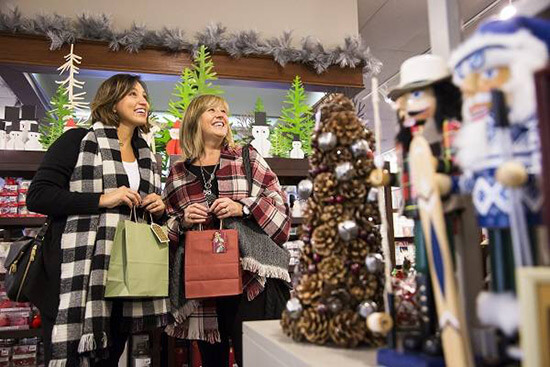 Do you still need to get all your holiday shopping done? Instead of facing the hustle and bustle of an overcrowded mall, why not enjoy leisurely exploring Stratford's festively decorated streets as you browse unique presents made with tender loving care by local artisans.
Businesses from the community have come together to select stocking stuffers just for you, so prepare to find the perfect gifts (and maybe spot a few swans-a-swimming while you shop!). Choose from over 25 unique downtown Stratford artisans and shops to shop from!
Event dates: November 1 to December 20, 2019 – From 10 a.m. to 6 p.m.
Cost: Stratford Tourism has set up a special offer, so you can get six gifts for $30 from a selection of 25 businesses participating in the Christmas Trail. Find out more about the Stratford Christmas Trail .
Stratford Outdoor Christmas Market: A Very Victorian Christmas
Stratford's Christmas Market is one of our town's favourite holiday events, and it's one you definitely need to check out this winter. During this one-day event, dozens of Stratford artisans and food vendors come together to ensure you have everything you need to check off your Christmas to-do list.
This event promises fun and wonders for the whole family, as kids are welcome to create Victorian Christmas crafts, get their faces painted and enjoy the frolicking fun of a carriage ride. Best of all? Santa always makes a surprise visit, so don't be naughty and miss out on this spectacular seasonal affair.
This year, mini-markets will take place Sunday's so you can take advantage of great holiday shopping and exciting vendors right up until Christmas.

5th Annual Outdoor Christmas Market
Date: Sunday, November 24, 2019 – From 11 a.m. to 4 p.m.
Cost: Free
Location: Market Square in Downtown Stratford, Ontario
BIA's Festive Mini-Markets in Market Square
Dates: Every Sunday, Starting November 24th, 2019 until December 15th – from 11am to 4pm
Cost: Free
Location: Market Square in Downtown Stratford, Ontario
Christmas At Castle Killbride
Visit this traditional 1877 home and see what the festive season was really like back then. Experience classic décor and festive adornments throughout the castle.  .
Dates: November 16 – January 6, 2019 (Tuesday – Sunday) from noon to 4pm
Location: Castle Killbride in Baden, Ontario

Winter Lights Display
Get ready for an extraordinary display of light, sparkle and Christmas spirit in St. Mary's. This Winter Lights Display is so impressive and sizeable, you can actually drive around it. But, a stroll through the festive displays will make for a fun and very romantic way to spend one of your winter nights.
Also known as the Flats, Milt Dunnel is decorated by passionate community members each year with thousands of stunning Christmas lights. From Nativity scenes to dinosaurs, you will find countless sparkling scenes that will highlight the enjoyment of a lively and festive sleigh ride throughout Stratford's winter wonderland.
Dates: From November 15, 2019 – January 6, 2020 – From 7 p.m. to 11pm
Location: Milt Dunnell Field in St. Mary's Ontario.

Stratford's Annual Community Carol
Enjoy Christmas merriment as local carolers will be celebrating the festive season by singing traditional holiday classics. Gather loved ones and family members to experience this classic holiday tradition.
Dates: December 23, 2019 – from 7pm to 8pm
Location: Market Sqaure in downtown Stratford, Ontario

Holiday Horse-Drawn Carriage Rides
Do you hear those sleigh bells ringing? Take part in the time-tested tradition of riding through the beautiful streets of Stratford in a horse-drawn carriage. Remember to dress warmly and meet your driver and an elegant team of horses at City Hall. From there, you'll travel down Wellington and experience the winter wonderland of scenic Stratford during the Christmas season. The businesses in downtown come together to support this special treat, so it is free for all guests, but that means, it's first come, first serve.
Dates: November 23 – 24, 2019 – From 12 p.m. to 3 p.m.
Cost: Free
Location: Market Square, downtown Stratford, Ontario
Plan a Holiday Getaway in Stratford, Ontario
Experience Ontario's loveliest town at a slower pace and see why Stratford draws so much attention from across Canada for its heritage buildings, carefully manicured greenery and other pleasant aesthetics that will increase your appreciation for the renowned theatre town.
Stratford is the perfect place to spend Christmas. There are so many amazing family-friendly and romantic activities that you can take part in to ensure this is your brightest and best holiday season yet. You can have the perfect Christmas getaway by booking Stratford accommodations  at The Parlour Inn, located within walking distance from many of Stratford's Christmas events. Be naughty or nice in Stratford this Christmas – we promise you'll enjoy great food, special beverages, and festive activities regardless of which list you're on.