Treat your kids to a family getaway in Stratford that's as much fun for them as it will be for you. From energetic activities to the promise of relaxation in serene surroundings, Stratford is a great family-oriented destination for your summer escape.
Enjoy the Great Outdoors
Make sure your kiddos are wearing their sunblock, so you can enjoy the day exploring Stratford's gorgeous outdoor areas. Take a walk down by the Shakespearean Gardens where you'll get to stop and smell the flowers, see the area's infamous swans and enjoy the Avon River.
Parks and Greenspaces
If you are looking to get a little sun outside the centre of town, check out Upper Queen's Park for the perfect picnic spot. At this family favourite park, you'll find areas with equipment for the kids to play on, trails to take in the scenery and many quiet places to enjoy lunch with your loved ones.
Explore the Waterways
Enjoy the wonderful waterways of the Avon River with your loved ones. Rent a kayak or canoe with Avon Boat Rentals and experience a relaxing paddle where you can spend time on the water with the swans. Locals have been canoeing this beautiful river for over 135 years; do as the locals do and experience this Stratford tradition for yourself!
Great Local Toy & Book Stores
Stratford is home to some great local boutiques and shops that feature unique items and gifts. Take the kids and experience these great toy and book shops and let their imagination soar.
Fundamental Books and Toys is a local favorite – carrying a wide range of educational toys for kids, as well as Shakespeare books for kids and teens alike.
In a town that is known for its outstanding theatre scene, be sure to visit The Green Room – a local shop known for its great costumes, fashion and accessories.
Bring Your Appetite
Stratford is renowned for good eats. When you visit our charming town, you won't be filling up at big chain restaurants. Instead, you and your family will get to enjoy farm fresh ingredients crafted into delicious meals by locals who are passionate about flavour. Whether you want to enjoy pub fare at The Parlour Inn or walk around downtown Stratford in search of a great breakfast, lunch or dinner destination, you won't be disappointed by what Stratford is serving.
Enjoy a Sweet Treat
After dinner (or anytime throughout the day – because you're on vacation, so why not?) check out Stratford's different ice cream and treat shops. One place you won't want to miss is Chocolate Barr's – where your little ones will go wild for the walls filled with chocolates and confections. Don't miss the delectable treats at Rheo Thompson Candies in downtown Stratford, who have been making delicious chocolates and sweets since 1969.
Treat Yourself to the Theatre
When you think of Stratford, you should think world-renowned theatre. During your family getaway, plan a special night out at the Stratford Festival Theatre. Choose from a wide array of plays and musicals – many of which are going to keep your kids tapping their feet, singing along and developing an appreciation for all that glitters on stage.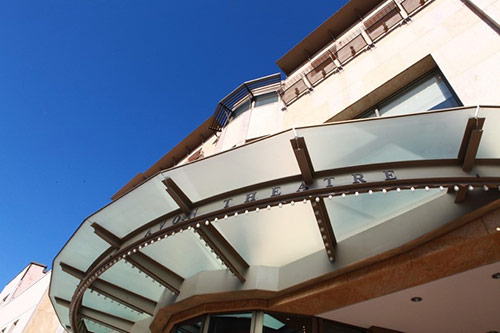 We Look Forward to Welcoming Your Family to Stratford
When you have the whole family in tow, convenience is essential. Book your Stratford accommodations with The Parlour Inn, just steps from all the best aspects of the town. Enjoy comfortable upscale accommodations and great food within walking distance of the theatre, Gardens and so much more.